"Games are architectures for an emotional experience" - An Interview with Dan Pinchbeck

Everybody's Gone To The Rapture
Dear Esther, Korsakovia, Amnesia - A Machine for Pigs, Everybody's Gone to the Rapture - Dan Pinchbeck has an impressive track record as far as innovative indie games are concerned. Dan's way into games development has been unusual: He has a background in Drama, but has worked in media, digital and technological arts practice using emergent technologies. Based in academia - he joined Portsmouth University in 2003 to teach creative technology and research the significance of narrative within Computer Games - Pinchbeck founded The Chinese Room as a university research project, funded by a grant from the Arts and Humanities Research Council.
Among the projects pursued was a Source engine mod for Half-Life 2, experimenting with narrative and minimal player interaction - Dear Esther. Released for free in 2008, Esther was selected for the Animation exhibition of the 2008 Prix Ars Electronica and made the Top 100 of Mod DB's Mod of the Year 2008. In 2009, the game won the award for Best World/Story at the IndieCade Independent Game awards.
After completing Korsakovia, another experimental Source mod dealing with mental illness and the perception of reality, Pinchbeck began work on a high-gloss remake of Dear Esther, with the help of Robert Briscoe, an amazing score by Jessica Curry and funded by the Indie Fund.
Released in early 2012 as a commercial project, Esther's standalone version was a resounding critical and commercial success, eventually selling over 850,000 units. The game - although critics among the 'hardcore gamer' crowd habitually denied Esther even this definition - is arguably one of the most daring, touching and experimental pieces in gaming.
Having established The Chinese Room as an independent developer studio, Pinchbeck and crew just finished work on Frictional's Amnesia's highly anticipated sequel, A Machine For Pigs. Following this rather more "traditional" title, next up will be a spiritual sequel to Esther's experimental gameplay and narration: Everybody's Gone To The Rapture, a title recently revealed to be a PS4-exclusive.
Dan was kind enough to answer a few questions by email.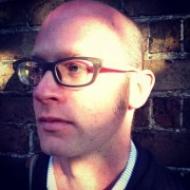 Dan Pinchbeck, The Chinese Room
Rainer: So, Dear Esther as a mod, Korsakovia, Dear Esther standalone, Amnesia AMFP, and now the deal with Sony for Everybody's Gone To The Rapture - you have come a long way. Did your games' critical and commercial success surprise you?
Dan: Absolutely! We sort of hoped that if we were lucky, Dear Esther might sell maybe 20,000 units in it's lifetime which would be enough to repay Indie Fund and get Rob and Jessica some reimbursement for the work they basically did for nothing. It's now over 850,000 units. Thats pretty amazing. And it's really been taken in by gamers, it's so loved, that's incredible.
What do you think was the most important factor in the success of experimental games like Esther or Journey?
I think the time was just right for them, in many ways. We stood on the shoulders of giants, people like Tale of Tales had broken this ground for us, started that momentum going. And there was a move in AAA games as well, towards reflection, pure emotion, not just mechanics and stimulus for their own sake. Gamers were ready for these types of experiences.

What's great now is the continuing success of games like Gone Home shows it wasn't just a brief fashion, that these ideas are here to stay.

"I hate the term 'notgames'. For me, games don't need fixing. They are
not broken."
Esther was a showcase in the 2011 notgames showcase in Cologne - do you identify with this term?
No, I hate it, along with pretty much all of the Notgames makers. It was a useful banner for a while, a place we could identify other like minded developers and find a community. But I've never identified with the more critical, political aspects of it. For me, games don't need fixing, they are not broken. I'm a gamer and a game developer. That's my world.
With the release of games like Esther, Proteus and Journey, many less tolerant gamers themselves refused to call these experiments 'games', while outside critics only ever see headshots and potential murder simulators. I'd argue that it's two fronts that keep games from achieving their potential - conservative 'hardcore' gamers on the one hand, and a disinterested, prejudiced public refusing to acknowledge the medium's quality on the other.
Do you agree? What can be done to improve this situation?
I think, ironically, one of the reasons I left academia was because I was tired of hearing pointless arguments about terminology and inadvertently contributed to the one, above all others, that just won't go away. I think the reality is that some people will always be territorial about anything, and some people will always seek to reduce things they are not interested in, or don't like, to the worst cases in order to push them aside.

Those things are not unique to games, and they won't go away. But neither of these groups are actually innovating, so they are broadly irrelevant to the evolution of games as a medium.

When we last discussed Korsakovia in 2009, you wrote that 'fun' as a necessity for games should be questioned - with the success of games like Esther and Journey, do you think that more people would agree today? Do you think that the need for games to be fun will eventually go away?
Oh I hope not! On my steam account, I've racked up more hours playing Just Cause 2 than anything else - I love fun games. But they are not the only measure of a successful game experience of course, and yes, that understanding is definitely more there now than it was a couple of years ago. Which can only be a good thing.
Your games could be said to be FPS at heart - without the shooting. What fascinates you most about the first person viewpoint in games?
It's the immediacy, the immersion. It's YOU, not a character, not a puppet. I do love third person games, and obviously there's some stuff which doesn't work as well in first person, but it's the game form I feel more drawn to, because nothing else pitches you right into the heart of the experience in the same way.
What do you think about today's bestselling FPS franchises? What are your favourites, your influences? Do you see innovators in AAA FPS?
Best selling or best? They have a place, of course. The best AAA shooter so far this year has to be Metro: Last Light. They managed a rare fusion of a great 'fun' shooter with something far darker, deeper, more interesting. And they are possibly the best studio on the planet when it comes down to environmental storytelling. It was amazing to see it get such a big release.
Bioshock Infinite was criticized for its traditional shooting mechanics and the violence. Would you agree with that criticism? Do you think that the mainstream still can't do without these elements to be successful?
I think the problem with Bioshock for me was less the traditional aspects than the fact they weren't handled very imaginatively. The arena based design got tired very very quickly and you didn't get a strong sense of AI at all, so the combat sequences felt pretty dated and that jarred with the level of investment in the world. It reduced an inherently fascinating world to a backdrop for inherently dull gameplay. Now if, as a shooter, it had felt more like Doom 3, or DayZ... That would have been amazing.

So I have no problem with these mainstream elements, I'm still a gamer first and foremost. But the bar has raised in terms of their delivery for sure.
In my review for Dear Esther I argued that it should not be read as a 'game' or narrative, but instead as an 'open work' in Umberto Eco's definition. I understand that Amnesia - AMFP is a more traditional game, but would you agree that you strive for this kind of openness in your other games?
I think as a writer I'm interested in ambiguity and the slippage of meaning, in the nature of reality and our illusions about our sense of self and consciousness and being in the world, so I think that's something that is kind of hard wired into our games because of that. And Jess has similar preoccupations as a composer, she's obsessed with the notion of truth, or beauty, of what is means to be an emotional creature. So it's less a striving, more of an inevitability I guess.
Player agency is traditionally (mis)understood as the players' ability to influence the game world, up to and including games as power fantasies. Your games deny their players this kind of agency, reducing players to relatively passive walkers (Esther), hallucinating, helpless madmen (Korsakovia) or witnesses to the end of the world (Rapture - although you stated that this time, players would be able to manipulate the world in a real sense). Even Amnesia is most notable for the helplessness of the protagonist.
Would you agree that less (agency) can be more in games?
"We see games as architectures for an emotional experience, and mechanics are purely there to serve that process."
I think it's an incredibly interesting angle to explore that for a bunch of reasons tends not to be explored at any great length in most games. I think if you conceptualise what you do as an exercise in mechanics, in pattern manipulation, in goals and solutions, it's very very hard to break out of the traditional powering-up model.

What I think we share with Frictional, and people like That Game Company as well, is that we see games as being fundamentally architectures for an emotional experience, and mechanics are purely there to serve that process. That opens up new design areas. It's not always right, or better or course, and I don't think a power fantasy driven game is in essence a lesser game at all. It's just different, and it lets you do different things, and it's great to explore that and see other people exploring it too.
Your research focus is on narrative, but I'd argue that most of your games are about narrative second, and atmosphere first (a main forte of STALKER, as well). Would you agree that games in general are unique in that they allow players to __experience__ atmosphere, rather than merely be shown or told? Would you agree that the agency you allow your players is mostly about shaping this experience?
Yeah, I'd agree with that (although I'm not a researcher anymore, we are now full time on the studio). Narrative is a tool, like physics, like foley, like AI. The core is the emotional experience of the player and that can be quite ambiguous, quite low key, like the core of Shadow of the Colossus. And STALKER of course.
In my regular feature 'Screenshot deluxe' , I feature in-game photography - in essence (and in Duncan 'Deadendthrill' Harris's words) a kind of 'videogame tourism', an activity all about games as atmospheric spaces. Do you think that this offering of atmospheric spaces to explore might explain part of gaming's appeal?
Yes, absolutely. What draws me to games are their worlds and the fact you can be in those spaces. I look at the formative games for me, the ones I really remember, and they are not really the simpler games of my childhood, it's the stuff I found in my late teens. DOOM, Tomb Raider, System Shock, Half Life - these all featured these extraordinary, amazing worlds, and you got to BE IN THEM. That was totally and utterly inspirational to me then, and it still is now.
Let's talk about your cooperation with Frictional. What makes A Machine for Pigs a Dan Pinchbeck game?
That's a fun question. Well, actually, I would say there's no such thing as a Dan Pinchbeck game as that would be grossly underplaying the contributions of other people. Jess is critically important to the visions we create. Not just her music, but her active role in the conceptual development of our titles is every bit as important as mine.

On Pigs we had an amazing team who all contributed a great deal creatively and I think the vision is really strong in the game. What makes it a Chinese Room game? Focus on immersion, emotion, story, pushing at the boundaries, not opting for the safe option, I guess. I think we are really passionate developers and I think that shows.
"When you introduce a shooting mechanic into a horror game it turns into a problem solving exercise."
The last two, three years have seen a renaissance of Indie horror games, with phenomena like Slender and of course Amnesia taking horror to new heights.
At the same time, AAA horror franchises like Dead Space and Resident Evil have changed focus and concentrated on action to reach a larger audience - and mostly failed. Why is that?
The short answer? Because when you introduce a shooting mechanic into a horror game it ceases to be about the emotional state and turns into a problem solving exercise. They cease to be horror games in anything other than a very superficial sense. In the same way that torture porn movies like Saw are not really horror, they slap some surface detail onto things and work on the basis that gross out visuals and a couple of jump scares are all you need. That's lazy.

Don't get me wrong, I actually love Dead Space (the Resident Evil games are pretty forgettable though) but it's telling that the best bit of the DS franchise for me is the return to the Ishimura in the second, which is terrifying precisely because nothing happens. Then the Necromorphs eventually start coming out of grates and it's back to the same old mechanical issue of ammo preservation and predicting what's going to happen next. That's not horror for me.

Everybody's Gone To The Rapture
Finally, let's talk about Rapture. I admit I was also a bit disappointed when I read about your exclusive deal with Sony. Is the last word spoken on this?
Yeah, it is, but it's really not such a big deal. We wanted to make a game, we didn't have the resources or experience to make it on our own, we had the opportunity to work with a team who have an outstanding track record of making games we identify with, and a chance to make it on a cool new platform.

The irony about some of the criticism about this is that the reason we are making a PS4 game is precisely so we can realise our creative and artistic vision for the game. Which is supposed to be what the whole indie spirit is supposed to be about. Would you rather we compromised the game to force it into a smaller form we could afford to make on PC? That seems self-defeating.
Sony really tries to make Indies their USP on PS and Vita, and console-wise, this strategy has worked, with Jenovah Chen, Jon Blow and now you in their portfolio. Still, an open platform like PC will always be the real breeding ground for new ideas and a games underground in modding, freeware and communities like Twine or Poppenkast. Do you agree? What's the most attractive aspect of releasing on console for you?
I think the gap is closing between the two, and I hope it continues to. PC development is technically a more free space, but it's actually extremely hard and getting harder to get work out and noticed, onto Steam. So it's not so cut and dried I don't think. I don't know enough about those communities to really comment I guess. It's like mobile gaming, it's just an unknown country for us, I have no idea other than my opinion as a player about things like freemium of App Store placement...

For us, it's driven by the game, and identifying the best place we can make the best game we can. This time around, it happened to be console. It doesn't run any deeper than that.
Recently, Steve Gaynor's Gone Home has tried to introduce elements of 'narrative exploration' to an FPS frame. Did you play it? What did you think of it? How does this approach compare to Rapture's multiple viewpoint, open world design?
I did, and it's a great game. I do think there's been a lot of talk about it being revolutionary in it's approach to narrative, and I do think, like Esther, that what's really going on is that it's repurposing classic design in a new way. It's extremely competent environmental storytelling, but using a mix of props, notes and voice-over is classic design. I think it's important to remember that whilst giving them the applause they deserve for bringing a very different story to games and delivering it so well it's been accepted across the community. It's been a really interesting title for us to discuss as a team as well.

So I'm not telling you anything about Rapture other than there will be shared things of course, because these are tried and tested classic game storytelling devices. But that sounds a little mean-spirited and I'm not trying to be. They set out to do something really different and they did a great job of it. They can be very proud of what they did.
"There's
no excuse anymore for flab
in games."
Esther, like Journey and many experimental games, was rather short compared to the medium's norm. In a recent and much-discussed (and flamed) article I argued that 'Videogames need to become shorter to mature' . Would you agree? How long will it take players to experience all of Rapture?
I think more important is that games continue to diversify and we explore all the options. Some games are best realised as short form experiences, others require scale. I'd hate to see big epics reduced in scale for example. The point is that there's no excuse anymore for flab in games. It's better to have a brilliant 2 hour experience than a 30 hour experience that is 2 brilliant hours and 28 hours of padding. That's the big issue.
Finally, with Rapture releasing soon, what are your plans for the future?
No-one said anything about soon! It'll depend a great deal on the reaction to Pigs and how things go with Rapture. It's getting harder and harder to predict where we will be in terms of gaming culture and hardware and things like that, so I'd prefer to gently, cautiously avoid that question.

What I do know is that we will be hard at work on a game we are totally passionate about. Otherwise, what's the point? We want to keep loving the games we make and the process of making them.